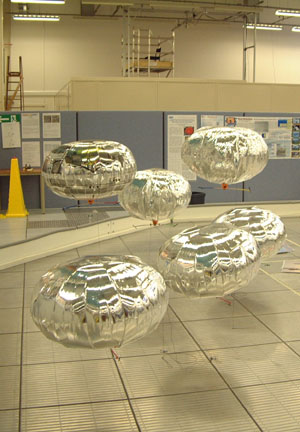 The laboratory has striven to create a pragmatic mix between research and development work covering the whole spectrum from 'blue skies' theoretical innovation, to concrete solutions for real problems. Some systems are software or abstract. Others are physical, including mobile robots, for which the laboratory is especially renowned.
The IAS Laboratory is located in purpose-designed Engineering research accommodation - workshop, electronics laboratory and office space - in the Du Pont building adjacent to UWE's main campus. The laboratory notably incorporates a 144m2 mobile robotics arena for conducting large-scale experiments in Collective Robotics. It is equipped with a broadcast quality ceiling-mounted camera together with stop-frame vision systems for recording experimental runs onto compact disk and video-conferencing equipment. Support equipment includes both frequency hopping and spread spectrum radio LAN systems for communication with mobile robots. The adjacent 100m2 workshop and technical office is well equipped for electronics and embedded software development including surface mount PCB design and electronics prototyping equipment, and accommodates three full-time robotics technicians.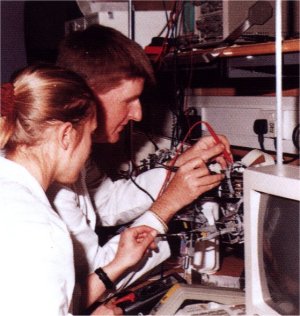 Full Time Technical Support
The laboratories team of researchers has many links with companies and other research centres home and abroad. Partnerships have been forged with fellow researchers at the Californian Institute of Technology, USA (Caltech) and the University of Hokkaido, Japan, as well as the universities of Bath, Sussex and Oxford. Funding sources include British Aerospace (Sowerby Research Centre), Caltech, Hewlett-Packard Laboratories, The Engineering and Physical Sciences Research Council (EPSRC) and Royal Mail.